This article is about the manga. For other uses of this name, see Devils' Line (Disambiguation).
---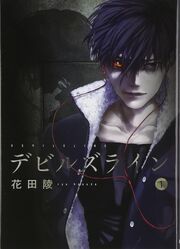 The Devils' Line (デビルズライン, Debiruzu Rain?) manga series is written and illustrated by Ryo Hanada. It was first published in March 2013 and is serialized in Kodansha's Morning Two, and Kodansha Comics is publishing the series digitally. An official English version by Vertical Comics began serializing the manga in May 2016. The manga is completed and is compiled into 14 volumes, the last volume serving as a side story and continuation of the main series.
Plot
[
]
Yuuki Anzai is a half vampire, and Tsukasa Taira is a normal school girl. Vampires seem to be living among humans. Outwardly, they appear nearly identical to humans, so the general public does not know of their existence. They also do not need to drink blood, but when they get a craving or get angry, they can become uncontrollable monsters.
Characters
[
]
Main article: Full List of Characters
Volumes and Chapters
[
]
Summaries and more information about the chapters and volumes can be found at the individual pages.

#
Volumes
Release date
ISBN
1
September 20th, 2013 (JP)
May 24th, 2016 (EN)
ISBN 978-4063872552 (JP)
ISBN 978-1942993377 (EN)
Chapters list:

Pages: 224
Cover character:

2
April 23rd, 2014 (JP)
July 26th, 2016 (EN)
ISBN 978-4063883299 (JP)
ISBN 978-1942993384 (EN)
Chapters list:

Pages: 208
Cover character:

3
August 22nd, 2014 (JP)
September 27th, 2016 (EN)
ISBN 978-4063883633 (JP)
ISBN 978-1942993391 (EN)
Chapters list:

Pages: 200
Cover character:

4
January 23rd, 2015 (JP)
December 6th, 2016 (EN)
ISBN 978-4063884180 (JP)
ISBN 978-1942993407 (EN)
Chapters list:

Pages: 224
Cover character:

5
June 23rd, 2015 (JP)
February 21st, 2017 (EN)
ISBN 978-4063884708 (JP)
ISBN 978-1942993629 (EN)
Chapters list:

Pages: 216
Cover character:

6
November 20th, 2015 (JP)
April 11th, 2017 (EN)
ISBN 978-4063885330 (JP)
ISBN 978-1942993919 (EN)
Chapters list:

Pages: 216
Cover character:

7
April 22nd, 2016 (JP)
June 6th, 2017 (EN)
ISBN 978-4063885880 (JP)
ISBN 978-1945054006 (EN)
Chapters list:

Pages: 224
Cover character:

8
September 23rd, 2016 (JP)
August 15th, 2017 (EN)
ISBN 978-4063886344 (JP)
ISBN 978-1945054174 (EN)
Chapters list:

Pages: 208
Cover character:

9
February 23rd, 2017 (JP)
October 3rd, 2017 (EN)
ISBN 978-4063886986 (JP)
ISBN 978-1945054310 (EN)
Chapters list:

Pages: 224
Cover character:

10
July 21st, 2017 (JP)
March 6th, 2018 (EN)
ISBN 978-4065100479 (JP)
ISBN 978-1945054525 (EN)
Chapters list:

Pages: 200
Cover character:

11
March 23rd, 2018 (JP)
August 21st, 2018 (EN)
ISBN 978-4065108079 (JP)
ISBN 978-1947194120 (EN)
Chapters list:

Pages: 224
Cover character:

12
August 23rd, 2018 (JP)
February 12th, 2019 (EN)
ISBN 9784065126394 (JP)
ISBN 978-1947194724 (EN)
Chapters list:

Pages: 208
Cover character:

13
February 22nd, 2019 (JP)
August 6th, 2019 (EN)
ISBN 978-4065146705 (JP)
ISBN 978-1947194632 (EN)
Chapters list:

Pages: 208
Cover character:

14
June 21st, 2019 (JP)
March 24, 2020 (EN)
ISBN 978-4065160251 (JP)
ISBN 9781947194878 (EN)
Chapters list:

Pages: 208
Cover character: