We're Getting Mutants in the MCU - The Loop
Play Sound
This article contains major plot spoilers from the manga that have not been revealed in the anime. Proceed at your own risk.
---
Maiko Hashimoto

Kanji
橋本 麻衣子
Romaji
Hashimoto Maiko

Biological Information

Species
Human
Gender
Female
Date of Death
July 2017

Biographical Information

Status
Deceased
Relatives
Mikaze Akimura (Daughter)

†

Former Affiliation
ONL
Former Occupation

Research subject at ONL
Care worker

Media

Manga Debut
Chapter 1.5; Shouta Akmira

Image Gallery v •  e
Maiko Hashimoto (橋本 麻衣子, Hashimoto Maiko?) was a part of the Red Group of the last Hybrid Birth Project at ONL. A care worker and volunteer to take part in the experiment, she was paired with Shouta Akimura and became the mother of a hybrid, Mikaze Akimura, although both of them died shortly before the birth.
Appearance
[
]
Hashimoto was a young woman with an average build and height. When she was first introduced, she straight upper-back length that has bangs covering her forehead with longer strands of hair framing her face, relaxed light-colored eyes, she had a smiling face and she was five months pregnant.
Personality
[
]
Hashimoto appeared to be a very kind, considerate and loving woman who was seen happily smiling at Shouta Akimura and was very excited about giving birth and becoming a mother to her daughter, which she hoped would have just as beautiful hair as her father.
Story
[
]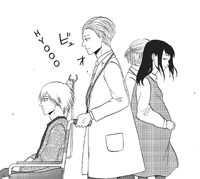 In the year 2016, Hashimoto decided to take part of the last Hybrid Project ever at ONL due to unknown reasons. She originally worked as a care worker, but she appeared to be excited to become a egg donor. She was partnered with Shouta Akimura, and although he didn't want to talk to her, Hashimoto requested to see him just once. One day when Akimura was going on a walk, Hashimoto, who was five months pregnant, passed by and smiled happily at him. Akimura was thereafter explained to that Hashimoto was his partner in the project and that she had requested just to see Akimura's face once.
In the year 2017, Hashimoto went into labor, but right before the baby (Mikaze Akimura) was born, she transformed which left both mother and child in critical condition that the two died shortly thereafter. To pay his respects, Akimura sent all of his money received from the project to Hashimoto's family.
Relationships
[
]
Akimura was Hashimoto's partner in the Hybrid Project. Although Akimura didn't want to meet his partner and wasn't interested in the project, Hashimoto appeared to be, as she requested to see him. They never talked and only passed by each other once, but she seemed to be happy upon seeing him. It is later revealed that she thought that he was very beauitful, especially his hair, and named their daughter in honor of him.
Hashimoto's biological daughter who was intended to a part of the Hybrid Project and she appeared to be very excited to give birth to a girl with as beautiful hair like her father.
Etymology
[
]
The name Maiko means "linen robe" (麻衣) (mai) and "child" (子) (ko).
Maiko's surname Hashimoto means "bridge" (橋) (hashi) and "base, root, origin, source" (本) (moto).
[

]
Characters of the Devils Line Series