We're Getting Mutants in the MCU - The Loop
Play Sound
Yuzuru Kikuhara

Kanji
菊原 結弦
Romaji
Kikuhara Yuzuru

Biological Information

Species
Human
Gender
Female

Biographical Information

Status
Deceased
Relatives
Kirio Kikuhara (Son)
Hometown
Kawasaki, Kanagawa

Media

Manga Debut

Image Gallery v •  e
Yuzuru Kikuhara (菊原 結弦, Kikuhara Yuzuru?) is the mother of Kirio Kikuhara. She was a neglectful mother to Kirio but when he became a young adult, Yuzuru became attracted to him. Kirio felt trapped by her "motherly love" and one morning pushed her off a veranda, killing her.
History
[
]
Yuzuru Kikuhara, at some point, had a son, Kirio Kikuhara, with an unknown man. However, both of them did not seem to have a relationship with Kirio's father, as Yuzuru and her son were only seen to live alone together. However, Yuzuru did not share a good relationship with her son either, and as Kirio claimed, they were connected by blood, but not their hearts. Yuzuru neglected Kirio and got three housekeepers who would come in shifts to take of him. She also didn't attend any of his school entrance ceremonies or graduations, since she was busy with work and romance.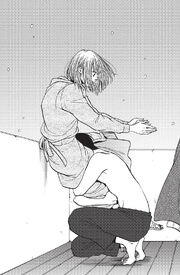 All of this continued until Kirio became sophomore in high school. For the first time in fifteen years, Yuzuru praised Kirio by saying that he was more handsome than any other man, as she had begun finding him attractive. Although this appeared to be "love" Yuzuru displayed towards Kirio, he was guilty of feeling happy at her praise, as she had not even once showed any interest in him prior. Yuzuru's "motherly love" made Kirio feel trapped. One morning after they'd slept together, Kirio saw his Yuzuru on the balcony and proceeded to push her off; which broke her neck and resulted in her death.
Appearance
[
]
Yuzuru was an adult woman with light-colored straight hair initially worn longer, but later in a shoulder-length style with long bangs covering her forehead and framing her face. She had big, dark-colored eyes.
Personality
[
]
According to Kirio, Yuzuru was not a good mother and hated children. She totally ignored him and couldn't stand to take care of him when he fell sick, so whenever something happened to him, she would entrust her housekeepers to take care of him. The only thing that was on her mind was work which kept her busy for most of the time, and romance of hopes of finding a new partner. Yuzuru also seemed to not be very physically affectionate, as Kirio claims that she hated hugging and never hugged him. Her showing "love" to her son for the first time in fifteen years was solely because she found him attractive.
Legacy
[
]
Despite that Yuzuru's own son killed her, he was not a bit guilty and felt free from her "curse". He also remained unaffected by this murder for unexplained reasons, as he went on to excel in life and make a good career. This indicates that he must've have hidden the fact that he was the one killed her. Even after her death, Kirio holds very little respect for Yuzuru and does not refer her as his "mother", only by her given name Yuzuru. Kirio blames Yuzuru for growing up in such a bad environment.
Etymology
[
]
The name Yuzuru means "tie bind" (結) (yu) and "string, bowstring, handle" (弦) (zuru).
Yuzuru's surname Kikuhara means "chrysanthemum" (菊) (kiku) and "field, plain" (原) (hara).
[

]
Characters of the Devils Line Series